Forum for Excellence
Register Now!
Or paste this link in your browser's address bar: https://icsps.illinoisstate.edu/cte/forum-for-excellence
2022 Forum for Excellence - Cultivating Collaboration Through Conversation
The Illinois Community College Board is excited to announce the 2022 Forum for Excellence will be presented as a hybrid conference online and in person in Bloomington/Normal on September 22 & 23, 2022. This year's theme is "Cultivating Collaboration Through Conversation." Please know the safety of our attendees is our top priority, and we will continue to monitor our environment to ensure a healthy and safe conference.
The 2022 conference is being hosted hybrid. We are planning an authentic, engaging, and dynamic hybrid conference that is as safe as possible. We are excited to bring you this amazing content virtually and in-person to support you, your program, and your students.
The Forum for Excellence is Illinois' premier professional development event. The conference highlights the continuing partnership of Career, Technical, and Adult Education in Illinois. The Forum is sponsored by the Illinois Community College Board and hosted by the Illinois Center for Specialized Professional Support and the Southern Illinois Professional Development Center.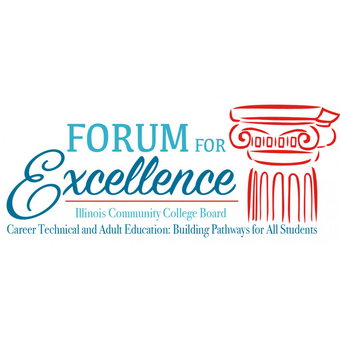 Bloomington/Normal, IL and online