IACTE Award Winners
The Illinois Association for Career and Technical Education Awards Program seeks to promote excellence in career and technical education by recognizing individuals who have made extraordinary contributions to the field, programs that exemplify the highest standards and organizations that have conducted activities to promote and expand career and technical education programs.
2020 IACTE Award Recipients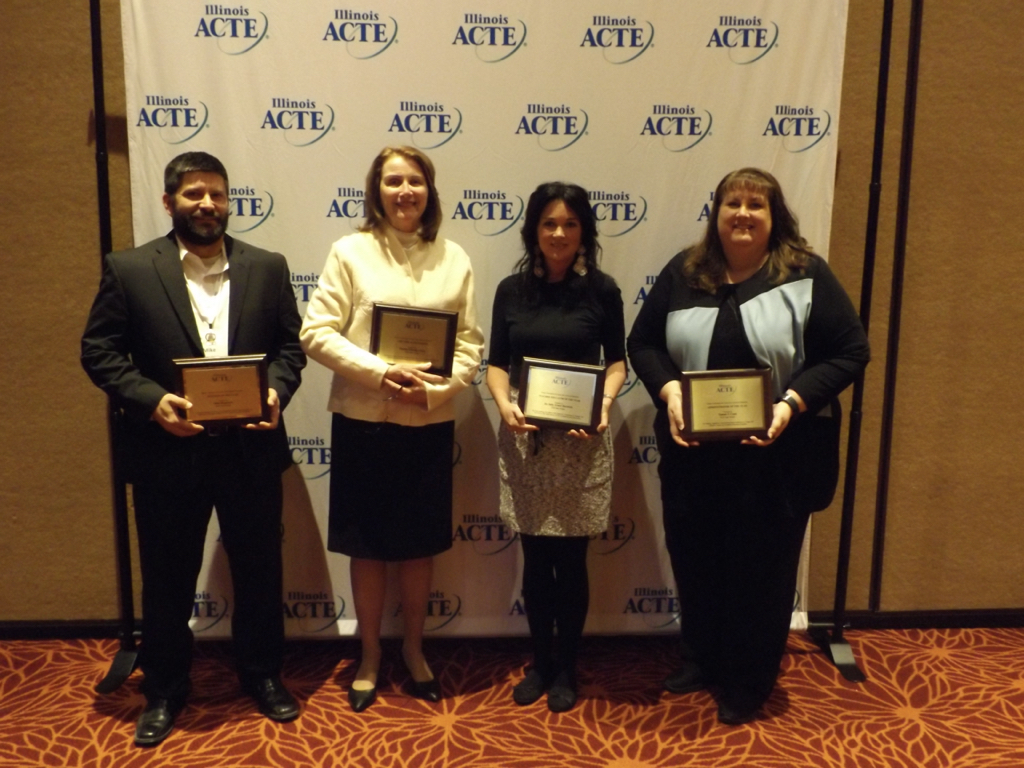 The IACTE Awards Program was presented at the Awards Dinner on Thursday, February 13, 2020, at the IACTE Annual Conference. At that time, the recipients of the awards were honored.
The following individual awards were presented:
Administrator of the Year – Tammi Conn
Carl Perkins Community Service – Karen Bear
Lifetime Achievement – Martha Eldredge Stark
Teacher of the Year – Mike Hagedorn
Career Guidance - Laura Cook
Teacher Educator of the Year - Sally Arnett Hartwick
These award recipients have the opportunity to have their names moved forward to the Region level. The Region winners will be announced at the Region III Conference in Prior Lake, MN, June 17 - 19. The applications of those eligible recipients have been entered into the ACTE Awards Portal.
IACTE Affiliate Awards
The vision, mission and goals of IACTE cannot be met without the work, cooperation and dedication of each of its affiliates. The IACTE Affiliate Professionalism Award recognizes those affiliates whose achievements promote the mission of IACTE. Affiliates are eligible to receive this award each year. Those affiliates presented with these awards were as follows:
Gold Level - ICTA and IFACSTA
Silver Level - IBEA
Bronze Level - TEAI
Largest Affiliate - IAVAT
Largest Increase in IACTE Members -IFACSTA
Greatest Percentage Increase in IACTE Members - IFACSTA and ICTA
- Tammi Conn and Alice Slager, IACTE Awards Co-Chairs
Nominate a Member
Please consider nominating individuals that you believe are deserving of the IACTE Member Awards!
Access the ACTE Awards Portal